About the Project
The COVID-19 pandemic brought rapid change to the world. The daily life that marked many disability experiences became shared by a larger culture as we cycled in and out of lockdowns and movement restrictions. These changes created new ways of relating to others, to the world, and to disability, especially for people with disabilities themselves. Mapping Disability Experiences explores how the COVID-19 pandemic has impacted (or not) disabled people's use and understanding of space. The project invited maps, envisioned in the broadest possible sense, capturing how people used space. The array of submissions we received included hand-drawn maps, poems, pictures, and digital renderings. They focused on environments ranging from a single room to backyard spaces to whole neighborhoods. Some "word-maps" turned their lens on the world at large, capturing political shifts and community responses. Others turned inward, exploring the fears, anxieties, and isolation that the pandemic brought to so many.
The Mapping Disability Experiences site offers a gallery of the submissions collected between the Spring and Fall of 2020. We have loosely organized these submissions under the categories Home/Circles, Outward/Community, Inward/Reflection, Isolation/Stagnation. We have chosen two words to represent each category in an effort to capture movement, place, and states of being found with the maps. Engaging with each of the maps will reveal how these categorizations inevitably overlap. While the four categories allow the different registers of movement to come into focus, the maps and their accompanying statements present a wide range of themes that reverberate across each of the gallery pages. Therefore, we invite readers to actively imagine the multiple ways these maps interact with each other beyond the organization of the virtual gallery we provide. Collectively, these maps capture the many ways that the interactions with our environments tell the story of COVID-19 and its unfolding impact on disabled people's lives.
---
Map Themes
Click the links below to view the maps for each theme.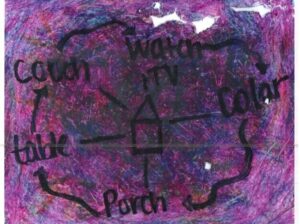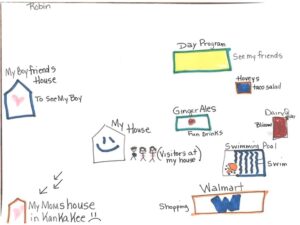 ---
For Community and Classroom Use
View our "Community and Classroom" page where we invite community members, students, and instructors to adapt our map-making guide for their own use. As part of this invitation, you will find guiding questions and prompts that can be used and/or adapted for your own map-making journey.